Minneapolis, MN
Team:

Minnesota Twins

Capacity:

55,883

Cost:

$68 million

Dimensions:

LF 343 CF 407 RF 327

Surface:

SporTurf (1982-86), Astroturf (1983-2003), FieldTurf (2004-)

Opening Day:

April 6, 1982

Architect:

Skidmore, Owings & Merrill

Construction:

Barton Malow (Southfield, MI)

Owner:

Metropolitan Sports Facilities Commission

Official Name:

Hubert H. Humphrey Metrodome

Closing Day:

October 6, 2009
Memorable Moments:
1985 All Star Game.
1987 and 1991 World Series Champions.
8/1/1986: Brett Blyleven gets his 3,000th K.
9/16/1993: Dave Winfield gets hit number 3,000.
7/30/1995: Eddie Murray gets hit number 3,000.
4/15/2000: Cal Ripken Jr. gets hit number 3,000.
6/28/2007: Frank Thomas hits home run number 500.
Due to harsh winter conditions in the 1970's, the Twins and Vikings called for a new, multi-purpose, domed facility to play at. In 1982, with the opening of this stadium, they got their wish. The success of the Silverdome in Detroit, home of the NFL Lions, paved the way for a publicly funded stadium. This stadium was completed on time, on budget, and is the only publicly funded stadium that does not have a continuing tax subsidy to finance it. In fact, the only major obstacle encountered was that of a big rock. A 125-ton granite boulder, estimated at more than a billion years old, was in the way during site excavation. When attempts to break up the rock failed, a public campaign started up to save the rock. The rock was saved and now sits on the front lawn of a local bank.
The roof of the Metrodome is more than ten acres of Teflon coated fiberglass, the largest such application of Teflon in the world. It is also the only air-supported dome in the major leagues. The park requires 250,000 square feet of cubic air pressure a minute to support it. Most people enter and leave through revolving doors to maintain pressure. If you leave through traditional doors, you suffer a major loss of air pressure and are "swooshed" out. Even thought the roof has air circulating near the top of it to melt snow, on three occasions, rapid snow fall has torn the roof, causing it to deflate. This stadium is probably the loudest in the majors, with peak decibel levels reaching 125 during a world series game at the "Thunderdome". The plastic-coated wall in right, which covers up seats used for football games, is often called the "Trash Bag" or the "Hefty Bag". The SporTurf in the early 80's caused some wicked hops.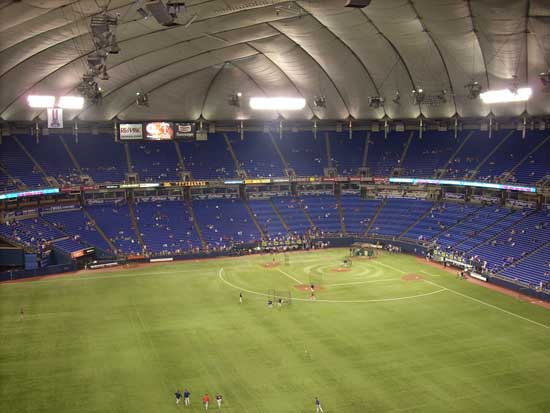 If you read any other pages on my site, you know that I am not a fan of indoor baseball. However, this is one of the better domes I have been in. During the games I went to, it got very hot inside the dome. The concourses were small and crowded making it difficult to move around. The park had some obstructed view seats due to support beams, but overall, the park had good sight lines. One interesting thing I noticed about this park was that there were not a whole lot of luxury boxes. I understand why the Twins was a new stadium after 25 years here, however, it is not that bad a park to play in. At least its not Montreal's Stade Olympique.
Metropolitan Stadium Retired Number (and the year it was retired):
3 Harmon Killebrew (1975)
6 Tony Oliva (1991)
14 Kent Hrbek (1995)
29 Rod Carew (1987)
34 Kirby Puckett (1997)
© 2007-17 Paul Healey.