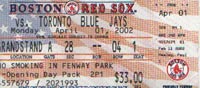 Boston, MA
Team:

Boston Red Sox

Opening Day:

April 20, 1912

Capacity:

35,000 (1912) 33,557 day 33,993 night (2001)

Dimensions:

LF 321, CF 488, RF 314 (1912) LF 310, CF 390, RF 302 (2003)

Surface:

bluegrass

Architect:

Osborn Engineering (1912 & 1934) James McLaughlin (1912)

First Night Game:

June 13, 1947

Contractor:

Charles Logue Building Co. (1912) Coleman Brothers Corp. (1934)

Owner:

John Henry and Tom Warner

Cost:

$650,000
Memorable Moments:
1912, 1914 (Braves), 1918, 2004, 2007, 2013 World Series Champions.
1946, 1967, 1975, 1986 American League Pennants.
1946, 1961, 1999 All Star Games.
July 11, 1914: Babe Ruth makes his Major League debut, as a pitcher, and gets a win.
September 14, 1923: George Burns turns an unassisted triple play.
1948 and 1978 one game playoffs to determine the outcome of a division. The only two in history.
July 25, 1941: Lefty Grove gets win number 300.
October 21, 1975 Game 6, (does this ring a bell?) Carlton Fisk's home run.
September 12, 1979: Carl Yastrzemski gets hit number 3,000.
July 8,1994: John Valentin turns an unassisted triple play.
April 22, 2007: Red Sox hit four home runs in a row in one game.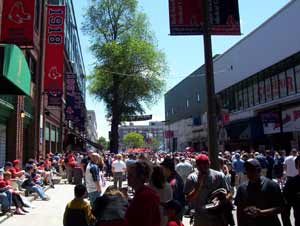 FENWAY PARK
.....
BUILT ... 1912
RECONSTRUCTED ... 1932
.....
BOSTON
AMERICAN LEAGUE
BASEBALL COMPANY
The stadium is the oldest in the bigs, so it lacks a lot of modern features other parks have. Poles obstruct views, chairs are too small, and tickets are VERY expensive. The outer facade, however, is great. It is an all brick facade that reminds us how old this baseball shrine is. With all this negativity why the "5 baseballs"? This park has more character than any other park I have been to hands down. It is a little piece of Baseball Americana, home of one of the most storied pro sports franchises ever.
Fenway has a lot of unique characteristics such as the Green Monster, the huge fence in left field. It was originally built to block out the view from the Fens because it was so polluted. Behind the wall is the signatures of many left fielders, both past and present. At the base of the monster is an old hand operated score board. Duffy's Cliff was a 10 feet tall mound at the base of the left field wall. The mound was named after Duffy Lewis, the master of the cliff. In 1934 the mound was greatly reduced, but some of it still remains. There is a red seat in the right field bleachers which marks the longest measurable home run in park history. Section 42, Row 37, Seat 21 is about 502 feet from home plate. The home run was hit by the Splendid Splinter himself. The right field pole is called Pesky's Pole. Sox infielder Johnny Pesky hit five of his eight Fenway career home runs around that pole.
| | |
| --- | --- |
| | |
This park has gone through a lot of renovations. Most notably are the ones done for 1934. New team owner, Thomas A. Yawkey, had the wooden centerfield bleachers replaced with concrete and steel ones, they leveled Duffy's Cliff, and they put up the Green Monster. In 1940 the Sox added the right field bull pens to help Ted Williams hit home runs. They are affectionately called Williamsburg. In 1946 and the 1980s the rooftop boxes were added. 1989 brought the 600 Club, now known as the .406 Club, which is enclosed luxury seating. If you sit up there, behind shatter proof glass, you hear all the sounds a split second later. The Red Sox have to use microphones around the stadium to pipe in the sounds of the game. You see, in the process of shatter proofing this section, they also sound proofed it. Wade Boggs hated this section. He said that it changed the wind currents and reduced his batting average. An electronic message board was installed in 1976. 1986 brought the video board. 2001 brought new owners and new improvements. They added numerous field level box seats so fans can now sit closer to the pitcher than the batter. In 2002, the Red Sox added the "Green Monster Seats", where you can sit atop this famous wall. They have plans to renovate the roof box seats for 2004. In order to improve their small concourses, they have taken over Yawkey Way on game day and created an open air concourse. It really opens the place up. If you want to do some renovations of your own and paint them like Fenway, the color they use is Fenway Green, and it is not available to the public. The Red Sox named the left field foul pole "Fisk Pole" after hall of famer Carlton Fisk who hit "that" home run off said pole in the 1975 World Series.
The Sox retired numbers are (in numerical order and the years they were retired):
1 Bobby Doerr (1988)
4 Joe Cronin (1984)
6 Johnny Pesky (2008)
8 Carl Yastrzemski (1989)
9 Ted Williams (1984)
14 Jim Rice (2009)
26 Wade Boggs (2016)
27 Carlton Fisk (2000)
45 Pedro Martinez (2015)
© 2001-17 Paul Healey.