Portland, ME
Memorable Moments:
1996, 1997, 2006 Eastern League Champions
1995, 2005, 2014 North Division Pennant
2005, 2015 Eastern League All Star Game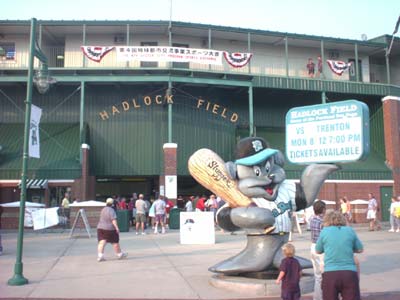 I am not too high on this stadium. They incorporated the Portland Expo Building (pictured below) into the design of the stadium. Some think it looks like Camden Yards, but that is kind of a stretch. The brick facade is nice but not great. There are no covered seats so "stay alert" for foul balls. The stadium is 50% aluminum and 50% concrete, but 100% unremarkable. Even the scoreboard is plain. The concourse was wide but boring. There was also a section for kids with speed pitch and a batting cage. This field probably leads the league with signs in the outfield that advertise if you hit the sign you win something. The one neat thing that they do is when a Sea Dog hits a homer a fog horn goes off and a lighthouse appears in the outfield spraying fireworks. I also liked how the Sea Dogs have a lot of "honored" numbers on the wall to showcase the Sea Dogs that are now in the bigs. Portland is such a beautiful city, built mostly of brick, and it is a shame the city didn't build a new brick park on the ocean.
New England is a very strong place for baseball. The people in the area are die hards and really watch a game. Until 1994 the closest baseball team to Southern Maine was the Single A Short Season Lowell (MA) Spinners, two hours away. So when baseball was expanding the Eastern League, the Citizens for Portland Baseball, headed by Bill troubh, former mayor of Portland and current Eastern League President, went to work. So while working with owner Dan Burke, the "Citizens" sponsored a name the team contest, took deposits for season tickets, and rented a store to promote Portland baseball.
Hadlock Field was used by numerous high schools and some colleges for baseball. $200,000 was raised and Hadlock Field was renovated into a modern minor league park. Who is Hadlock you may ask? Well, Edson B. Hadlock Jr. was Portland High School's baseball coach from 1956 to 1978 and the stadium was named in his honor, long before Slugger the Sea Dog was a puppy.
© 2002-14 Paul Healey.
Ariel picture © its owner. Used without permission.